Menú de Navegación Rápida
Consejos de como tocar Coda
The information in this section needs to be verified first. This was taken from Pamphlet 1: Marketing Message & Tips in Gdrive
General Tips
Coda is tuned in the key of C major.
Don't try to learn all the chromatic notes (sharps & flats) right away.
Even though you get up and running on Coda more quickly than on most other instruments, realize that your sound will improve dramatically over time, growing richer, fuller, and more beautiful as you gradually master the nuances of proper technique.
If you don't yet read music, have you considered learning how?  It's probably easier than you think, and it can open up a world of musical possibilities.  Link to new curriculum.    

https://codaedc.com/smc
Covering the Toneholes
Whenever you need to know which toneholes to cover to play a certain note, consult the fingering chart.
If a certain note sounds strangely out of tune, it may be because your finger pads are not in position to completely cover the toneholes.  This is to be expected in the beginning and will quickly improve with practice.
Play Coda with fairly flat fingers rather than highly curved fingers.  This allows your finger pads to lay flat on the surface of Coda so that you can fully cover the paired sets of toneholes.  (Please see video about finger positioning.)
Also, it is best to play Coda with your elbows at your sides rather than sticking out from your body.
Two Chambers, One Set of Toneholes
In order to pack a larger tonal range into such a small frame, Coda has two sound chambers.  One chamber sounds an octave higher in pitch than the other.
Blow into the left windway to play the lower chamber notes.  Blow into the right windway to play the upper chamber notes.  Switching octaves by sliding your mouth right or left feels odd in the beginning, but with time it comes to feel quite natural and fluid.
What sets Coda apart is that the TWO chambers are controlled by only ONE paired set of toneholes, greatly increasing ease-of-play.
This means that you can play a C major scale on either chamber using the same simple linear fingering pattern. In other words, you cover the same toneholes to play a low C scale as you do to play a C scale that's an octave higher.
A Few Words if You've Never Played a Wind Instrument Before
Cradle Coda's mouthpiece gently between your lips (not between your teeth) without putting too much in your mouth.
On wind instruments, you commonly use a technique called tonguing to start or stop the airflow with your tongue.
To start a note cleanly or to separate one note from another, whisper the word TOO (instead of WHO) as you blow into the mouthpiece.  For a softer attack, you can whisper DOO.
To start and end a note cleanly, try whispering TOOT.
Eventually you'll learn more advanced tonguing techniques, but this will get you started.
Support or Balance Coda with Your RIGHT Little Finger on "High" Notes
When –and only when– playing the highest notes on either the lower chamber or the upper chamber, lightly support the end of Coda with your RIGHT little finger as needed for balance.  (see video to show how to support Coda on highest notes of each chamber.)
You have to think about doing this at first, but it becomes an unconscious habit with practice.
Overlapping Notes
Coda is designed so that you can play middle B, C, C /D, and D on either chamber.
These overlapping notes are extraordinarily helpful.  In fact, it would be difficult or impossible to perform many challenging passages up to speed without the aid of these overlapping notes.
Still, they initially present a challenge of their own because you have to decide which chamber to play them on.
Be patient. With time and practice, your decisions will become increasingly automatic.
Alternate Fingerings
The following is a link to alternate fingerings for some notes.  (Link to Alternative Fingerings.) These are optional, so just ignore them until you are very confident playing Coda.
At some point, after mastering the basics, you might find that an alternate fingering improves the tuning of a particular note or makes a challenging passage easier to play.
At Times, You'll Need to Clear Condensed Moisture From Windways
Generally speaking, beginners need to clear their windways much more often than experienced players.  Also, condensation can be more of a problem in certain atmospheric conditions.
Try clearing your windway if any notes sound ragged or if upper chamber high notes are not clear.
One method for clearing a windway is to blow sharply into the windway entrance while covering the corresponding D-shaped window on the bottom of the instrument with your thumb.  (You cover the window to avoid making a loud noise!)
Another method is to suck briefly and sharply on the windway entrance a few times.
Windway Care
Every once in a while, you'll want to gently polish Coda's windways with folded white paper to keep them clear and smooth.  (You don't have to do this very often!)

1st, tear or cut white paper into strips that are about 2.5 inches (6.35 cm) wide.
2nd, fold one of the strips approximately 3 to 8 times, depending on paper thickness, into a flat "stick" that is about 1/4 inch wide by 2.5 inches long (6.35 mm by 6.35 cm).  Neatly tear away excess paper.
3rd, repeatedly slide the paper stick in and out of the windway.  Then blow away any remaining dust or residue.
It usually takes a little practice before you master the "fine art" of quickly making good polishing sticks.  You want them to be thin enough to slide through the windway without getting stuck but thick enough to polish the windway surfaces.

Never slide anything but folded paper through Coda's windways!  Hard objects can damage the precise windways or the labium edges.
If you have just eaten, consider rinsing your mouth with water before you play.  A clean windway is vital to good sound.
¿Qué le Pasó a mi Saxofón?
Mi situación no es tan diferente de la de tantas personas con las que he hablado. Quizás puedas identificarte. Toqué un instrumento musical (en mi caso, un saxofón) por varios años durante mis días de escuela. Son muchas lecciones, clases de banda, conciertos, prácticas… ¿Y luego qué? Bueno, me fui de casa, fui a la universidad y mi saxofón se quedó. Por desgracia, nos separamos, mi saxofón y yo. Años más tarde, con responsabilidades laborales y una familia que cuidar, comencé a extrañar hacer música, pero no podía ver cómo ese saxofón viejo y grande encajaría en mi ocupada vida adulta.
El Problema
¿Qué tiene de malo un saxofón? ¡Absolutamente nada! ¡Es genial en lo que hace! Y todavía sigo siendo un fanático del saxo. El problema es que quería algo en lo que pudiera encajar en mi vida cada vez que tuviese uno o dos minutos libres, lo cual no es posible a menos de que tu instrumento esté disponible en todo momento. Lamentablemente, el saxofón es justo como la mayoría de los otros instrumentos de banda, orquestales o folk. Son demasiado grandes y / o frágiles para llevarlos cómodamente contigo. (¡Intenta meter un piano, una guitarra o un saxofón en el bolsillo de tus pantalones!) Incluso si fueran más portátiles, lleva al menos uno o dos minutos preparar algunos instrumentos, o mojar THE REEDS, o afinar las cuerdas, o calentar, o limpiarlas después, etc.  Tus dos minutos se han ido y nunca pudiste que tocar una nota.
Si tan solo solo…
Si tan solo hacer música fuese una parte más (natural y espontánea de la vida adulta! ¡Ojalá no tuvieras que concertar una cita contigo mismo sólo para tocar tu instrumento! ¡Ojalá no tuvieras que ir a una sala de práctica especial para hacerlo! ¿Y dónde está la aventura, la diversión, de tocar donde sea que la vida te lleve?
¿Una solución?
¿Entonces cuál es la respuesta? Bueno, diferentes personas quieren cosas diferentes, pero yo quería una flauta cuyo sonido, rango y ergonomía fuese merecedora de mi dedicación.  Al mismo tiempo, esta flauta tenía que ser del tamaño de la palma de mi mano, resistente y lo suficientemente ligera como para llevarla conmigo. De esa manera podría tocar con mi familia, tomando un descanso rápido del trabajo, esperando que el agua hierva en la cocina, haciendo una barbacoa en el patio trasero, sentado en un carro estacionado, en el parque, junto al océano, en un viaje por carretera, en un sendero de montaña, en una excursión, acampando… (No hay nada como hacer música en la naturaleza.)
¿Qué es Coda?
Coda es una flauta EDC muy completa. También es un sueño que he perseguido con devoción (sinónimos: obstinación, perseverancia, persistentemente) durante varios años, a través de muchas iteraciones, decenas de prototipos, innumerables desafíos y retrocesos inimaginables. Durante este largo proceso de desarrollo, mis criterios de orientación fueron los siguientes:
Coda tenía que ser lo suficientemente pequeña, resistente y liviana para ser considerada "EveryDay Carry", es decir, que pudiésemos llevarla a cualquier parte y tocar en cualquier momento.


Hasta cierto punto, había logrado una hermosa versión de Coda que estaba lista para llevar al mercado. Sin embargo, después de agonizar con la decisión, decidí volver al tablero de ideas. ¿Por qué? Para mí, esa versión era demasiado voluminosa para ser EDC, y la experiencia me había enseñado esto: si no la tienes, no puedes tocarla. EDC se adapta mejor a la vida y trae  aventura a la mezcla.

Tenía que tener dos octavas completamente cromáticas que permitieran tener suficiente rango para tocar lo que quisiésemos, que pudiésemos fácilmente tocar en conjunto con otros músicos y también que pudiésemos tocar en más tonos.


En 1996, comencé a crear prototipos y eventualmente empecé a fabricar maravillosas flautas de bolsillo. Desafortunadamente, tenían un inconveniente principal. ¡Necesitaban más alcance!

Tenía que tener una digitación simple e intuitiva para que no solo pudiéramos manejar piezas desafiantes sino también DISFRUTAR de improvisar y tocar por oído.


La digitación simplificada fue un gran desafío para una flauta pequeña con tanto rango, pero para mí era vital. No me interesaban las soluciones tradicionales que hubieran hecho que Coda fuera demasiado complicada o engorrosa de tocar.

Tenía que tener una buena afinación y un sonido sólido y agradable en todo su rango para que fuera agradable de tocar y escuchar.
Tenía que ser relativamente asequible.


Agregué este último criterio después de experimentar por primera vez con varios métodos de fabricación que hicieron que Coda fuera demasiado caro para mis gustos. Por lo tanto, comenzamos el enorme, costoso y lento proceso de hacer que Coda fuese precisa y aún más asequible.
Hay tantos instrumentos maravillosos que puedes tocar (y quizás ya tocas). ¿Entonces, dónde encaja Coda? Bueno, diseñé a Coda para ser una excelente compañera musical. Coda puede estar a tu disposición incluso cuando todos los demás instrumentos se hayan quedado en casa.
Ventajas de un instrumento EDC (EveryDay Carry)
Libertad para tocar: una flauta pequeña, resistente y ligera te permite experimentar la alegría de tocar en lugares y situaciones donde usualmente no traerías otro tipo de instrumento, especialmente afuera en la naturaleza. Además, Coda te permite practicar en cualquier momento sin molestar a nadie. (Link to Silencers video)
Fácil aprendizaje (Dominio Rápido):  puedes aprovechar la portabilidad de Coda para tocar frecuentemente por cortos lapsos de tiempo, incluso si es por un minuto o dos. ¡Te sorprenderás con tu progreso!
Tocar por oído: dado a que tendrás Coda contigo cuando no tengas acceso a música escrita, te volverás bueno tocando por oído de forma natural. Por ejemplo: imagina que tienes tu Coda contigo y piensas en una canción, porque te gusta, intentas tocarla.
Composición sobre la marcha:  para los compositores, Coda es una fiel amiga. No hay necesidad de esperar a que llegues a casa para poder trabajar esas nuevas melodías en, digamos, un piano. Con Coda, solo estaciónate a un lado o desvíate del sendero para grabar ideas musicales en tu teléfono.  Como es mencionado anteriormente, te encontrarás a ti mismo tocando Coda cuando no haya partituras a tu alrededor que demanden tu atención, así, es muy natural improvisar y experimentar. La creatividad florece cuando tocas en este estado de relajación sin distracciones.
Posicionamiento de los dedos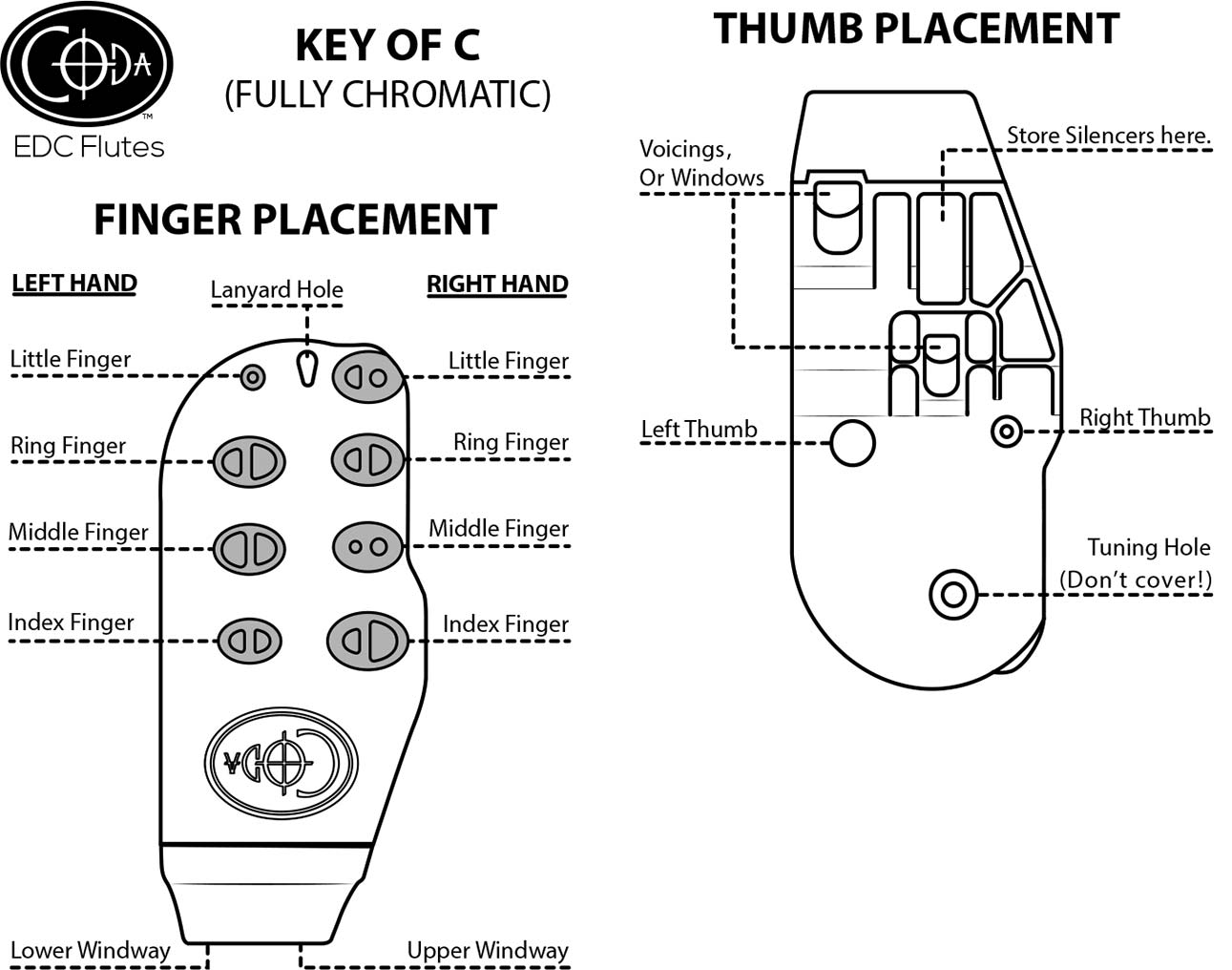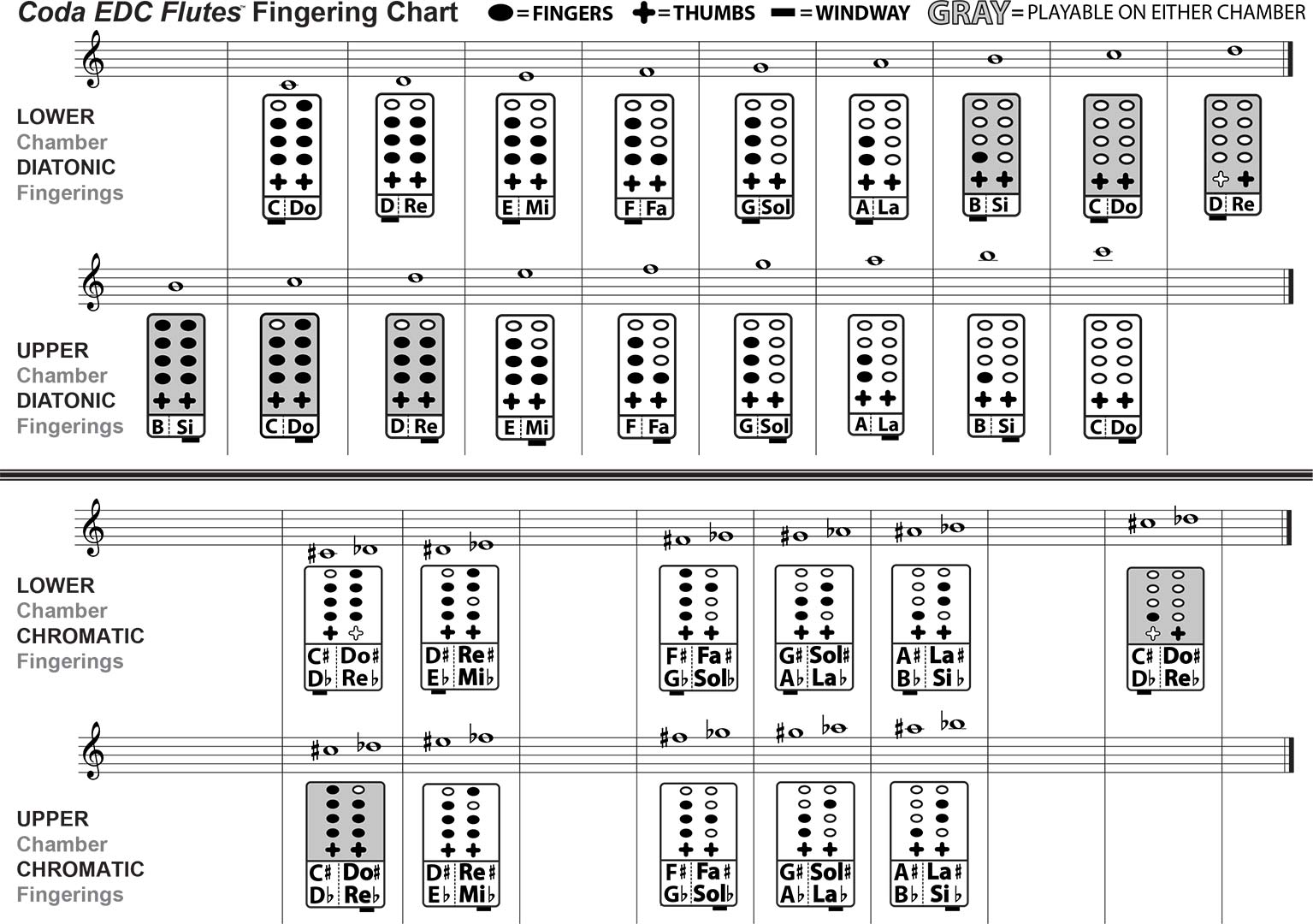 Explicación de las notas mas bajas adicionales
Tocar un SI mas bajo:
No te preocupes por esto al principio, pero el diseño de Coda permite tocar una nota extra más baja no mencionada en la tabla de digitación.
Para tocar ese SI mas bajo, coloca tus dedos como si fueses a tocar DO bajo. Luego, inclina Coda hacia abajo o mueve el labio inferior hacia abajo mientras soplas hacia la ventanilla izquierda. Hacerlo de esta forma opaca la ventana inferior más grande con forma de D. Con práctica y un poco de experimentación, esto causará que puedas bajar medio tono de DO a SI.
En realidad, con aún más práctica, puedes también llegar a un LA# o LA con la misma técnica de obstrucción.
Tabla de digitación extra